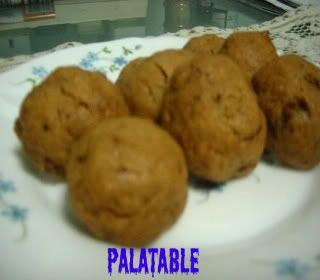 This cookies is quite sticky to handle but don't add more flour just roll it into small balls while baking it will puff up slightly. Nice aroma produced when boiling the date with sugar, butter and water. Great bake, my son can't stop eating them. It produces a very soft and delicious cookies that you may want to bake again and again
INGREDIENTS
125g unsalted butter
3/4 cup pitted dates, chopped
1/2 cup water
1 cup brown sugar
1 teaspoon vanilla essence
1 cup self-raising flour
1 1/2 cups plain flour
Directions
Pre-heat the oven to 160C.
Place butter, dates, water and sugar in a saucepan.
Bring to boil then remove from heat. Cool for 5 minutes.
Stir in vanilla essence and flours. Place heaped teaspoons of mixture onto prepared trays or shape into small balls.
Bake for 20 minutes or until golden.
Sat Nite Special 64
Sunday Showcase
Check Me Out Saturday 49
Sundae Scoop
Saturday Soiree 34
Recipe Swap Sundays
Just Another Meatless Monday 41
M.M.M. Day
Made With Love
Mad Skills Party
Market Yourself Monday
Anti-Procrastination Tuesday
Show Me What Ya Got
Slightly Indulgent Tuesday
Tutorial Tuesday
Tasty Tuesday