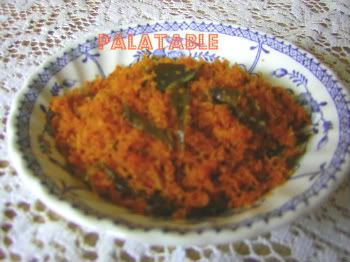 This spiced coconut floss is made of fresh grated coconut simmered until almost dry with spices, There are other type of serunding either beef (contains shredded beef), chicken or fish. But this plain ones is the most common. It is best served with white rice or lontong (compressed rice cake). If properly cooked the serunding can last for days without refrigeration. You can adjust the amount of chili power used.
SERUNDING
Adapted from Zarinah Anwar
INGREDIENTS
1 cup grated coconut
1/2 cup tamarind juice made with 2 tsps tamarind
1 tbsp sugar
1 tsp salt
2 fragrant lime leaves
1 tbsp meat curry powder
1/2 tbsp chili powder
GRIND INTO A PASTE
4 shallots
1 stalk lemon grass
1 sm piece galangal 1/2 in thick
1 clove garlic
METHOD
Place the grated coconut, ground ingredients, chili powder, curry powder, tamarind juice, sugar, lime leaves and salt in a non stick pan. Keep stirring over low heat to prevent burning until dry and crumbly.